Bike Crash Kit re-released for Apple IOS 7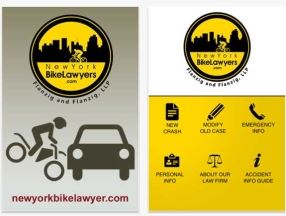 Over 1500 downloads to Date!
Over two years ago, to demonstrate our commitment to New York's cycling community, we released what we believed to be New York's first Bike Crash App. THE "BIKE CRASH KIT", was made available for FREE in the Android Marketplace and iTunes App Store. The App has now been re-released for Apple's IOS 7.
The application assists cyclists in gathering all necessary data after a crash. This includes the driver and vehicle owner's name, insurance information, witness information, responding police officer's name, report number, and precinct. It will also geo-tag the collision location, assist in taking photos of the accident scene and vehicles, record witness statements, and offer a sketch pad to diagram vehicle and cycle movement before and after the crash. If the collision involves a vehicle blocking a bike lane, or occurs as a result of a street defect such as a pothole, defective manhole cover, or grating, this defect can be documented by photo or sketch.
It is also our goal to allow this application to be used by advocacy groups to collect crash data in an organized format that can be easily e-mailed to the NYPD, 311, or other organizations collecting data on bike and cycle crashes. This app furthers our goal to help promote bike safety and education on the rights and laws afforded to protect New York's cyclists.