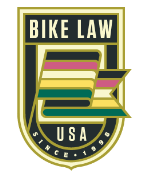 Daniel Flanzig has announced today that he has joined "Bike Law" a network of nationally recognized Bike Law Attorneys. The Group was founded by like-minded cycling attorneys across the Country to create a core group of talented and focused lawyers to assist the victims of bike crashes and advocate for cycling safety nationwide.
The Group was founded by Peter Wilborn of South Carolina and Ann Groniger of North Carolina. Joining Ann and Peter is Bob Mionske, a former Professional Cyclist and Olympian, and author of "Road Rights" - Bicycle Magazines monthly bike law column.
Daniel has parted with Jim Reed, Esq, of Elmira, NY to represent New York State on behalf of "Bike Law". Jim will be tasked with the responsibility of the upstate region while Daniel will be representing New York City, Long Island, Westchester and Rockland. Dan and Jim both serve on the Board of Directors of the New York Bicycling Coalition and are leading New York area bike crash attorneys.
Presently 16 States are members of "Bike Law" and our numbers are growing. To learn more about this exciting group of nationally recognized Bike Lawyers visit www.BikeLaw.com.