Advocates For NY Cyclists
Pro Bono and Advocacy Work For NY Cyclist's and Pedestrians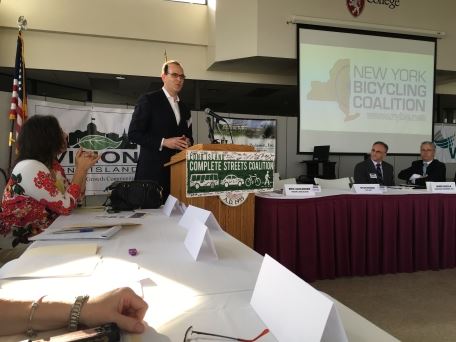 Daniel Flanzig Presenting at the Complete Streets Summit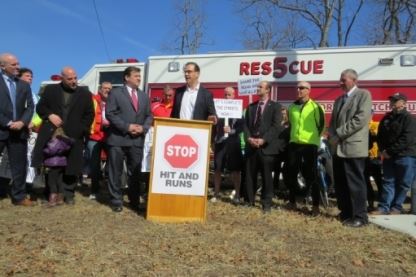 Daniel Flanzig appearing in Suffolk County for Increased Penalties in NY for Hit and Run Drivers
At Flanzig and Flanzig our efforts are not limited to the representation of cyclist's and pedestrians. Daniel serves on the Board of Directors of the New York Bicycling Coalition - New York's only statewide bike advocacy group. Daniel is also a legal advisor for the Coalition advising on legislative and safety issues to make New York a safer cycling State.
We are members and supporters of Transportation Alternatives, The League of American Bicyclists and People for Bikes. Daniel is the founder and Chair Person of the New York State Trial Lawyers - Bicycle Litigation Sub-Committee - with a focus on advocating for safer cyclists and pedestrian laws in Albany. Daniel has actively lobbied Albany for an amendment to N.Y.S.'s Safe Passing law and to help legalize and define e-bikes in NY.
We have handled several high profile Pro Bono Cases on behalf of New York cyclists in an effort to change the practice and policies of the NYPD in its policing of New York's cyclists. For instance, our office ended the practice of the NYPD of pursuing property damage claims against cyclists in which their vehicles who were involved in a crash. We further bought to light the manner in which the NYPD stops cyclists when attempting to write a summons.
We have been a lead sponsor of the TD Five Boro Bike Tour as well as other rides and races in New York.
We are regular speakers at NY area bike Clubs such as Huntington Bike Club, Suffolk Bicycle Riders Association and BikeNY.
We were a featured lecturer at the TD Bike Tour New York Expo in 2014.
Joined the New York Delgation at the 2015 National Bike Summit in Washington D.C.
We volunteer hundreds of hours representing cyclists and pedestrians for free in helping them get their medical bills paid, file MVAIC claims, or assist them in compensation for damaged bikes and other property.
---
To learn more about our practice or if you were involved in a crash or collision, contact us today for a free consultation.
---
Real People, Real Stories
Read What Our Past Clients Have to Say About Us
Daniel s a truly amazing person, honest, & a great human being.

Sameh E.

You will not find better than Cathy Flanzig!

David C.

Dan & his team were great & all was resolved favorably.

Michael K.
New York Bike Lawyers The Flanzig Difference
Leaders in the Safe Streets Movement

Committed Advocates for New York Cyclists

Top-Rated New York Attorneys

Dedicated to Helping Cyclists
Representing the Rights of Seriously Injured Cyclists
A Nationally Recognized Firm
Whether you have questions or you're ready to get started, our legal team is ready to help. Complete our form below or call us at (866) 352-6944.