NY Citi-Bike and Bike Share Crash and Collision Attorneys
Daniel Flanzig was recently interviewed by the New York Times regarding the New York City Bike Share Program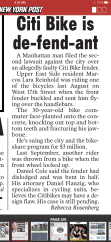 Flanzig and Flanzig in the New York Post discussing defective Citi-Bikes
Read Daniel Flanzig's recently published article " What to do after a Bike-Share Crash". The article was also published on the national industry website BikeShare.com
Daniel Flanzig discusses Citi-Bike Safety with Jay Dow of Channel 11 WPIX NY
What to do after a Citi-Bike Crash or collision
On the City-Bike website, advice is offered as to what to do after you have been involved in a crash. Similarly to the advice we would give, the website suggests that you call 911 and report the crash. Citi-Bike also requires that within 24 hours of the incident, you report the crash to customer service by calling 1-855-BIKE311. From there, they will provide you with a Citi-Bike crash report to prepare.
Even after a crash, Citi-Bike reminds you that you remain responsible for the bike until such time as it has been properly returned to a dock or turned over to a Citi-Bike representative. Remember, if you fail to return the bike within 24 hours of the rental, a fee of $1,000.00, plus administrative fees, will be charged to your credit card.
What We Recommend You Do After a Citi-Bike Crash
Follow the protocols of Citi-Bike. We give this advice assuming that you are physically able to do so after the crash:
Obviously, your health is the first priority. If you are injured, get medical treatment right away.
Call 911 and report the crash. Even if not you have not been injured, call the police and wait for them to take a report. We cannot stress this enough. Too many of our clients have later regretted not calling the police.
As per Citi-Bike's directive, call the 800 number and report the crash there as well.
If you are physically able, collect your own crash data. Do not rely upon the police to perform a proper and complete investigation.
Obtain vehicle information, driver's name, vehicle owner's name, and the license plate number.
If there are witnesses, get their contact information as well. You may be very surprised that the witness information may not be found on the police report when you pick it up a few days later.
If the driver will provide it, get the insurance company that insures the vehicle. You will need this information if you are injured and medical bills have to be paid.
If you have an iPhone, and you haven't already, download our App. We have developed a smart phone App to be used after a crash. Again, this assumes that you and your phone are ok. The App can be found on our website Newyorkbikelawyers.com. Keep it handy and ready to use.
Take photos with the App or your phone. Photograph the crash scene, car(s), the Citi-Bike, and any conditions that may have contributed to the crash. These can be very useful down the road.
Again, if you are injured, seek immediate medical assistance. Many people are worried about being stuck with hospital or medical bills if they are involved in a crash with motor vehicle. In New York State, if you are involved in a crash with a motor vehicle, that other motor vehicle's no-fault insurance coverage provides up to $50,000.00 in benefits for your medical expenses and lost wages. Do not be afraid to go to a hospital because you do not have health insurance or because you are worried about being stuck with an ambulance or Emergency Room bill. If you secured valid auto insurance from the driver, these expenses, among others, will be covered.
How to Obtain No-Fault Coverage After a Citi-Bike Crash
Once you obtain the information about the vehicle involved in the crash, whether it is a MTA bus, taxi, or private car, the insurance company for that vehicle should be contacted and given both notice of the claim within 30 days, as well as a request made for a no-fault benefit application. Try to refrain from giving detailed statements to the insurance company about the crash. These statements may be used against you later on.
If you were injured in the crash, we highly recommend contacting a competent attorney who is familiar with bicycle crash litigation to assist you in obtaining the no-fault benefits.
A good bike lawyer will not charge for providing assistance with the no-fault claim. If you choose to go it alone, try to have the no-fault benefit application completed and returned to the company as soon as possible, preferably within the 30-day time window. With that application, you will be provided with a claim number. That claim number can be given to the hospital, doctor or anyone from whom you seek medical treatment for. By giving them this claim number, they know to bill the no-fault insurance company for the treatment of your injuries.
What if You Crashed Due to a Negligent or Defective Road or Street Condition?
If your crash involves a fall due to a defective condition in the roadway, and you would like to pursue a claim against the City of New York, or another town, city or village within the state, it is important that you document the condition that caused your crash as soon as possible. Take photographs of the location and record measurements and any other evidence necessary to preserve the condition. These conditions are often transient and can change quickly after a crash. If the condition was caused by the negligence of the City of New York, a Notice of Claim must be filed with the Comptroller's Office within 90 days of your crash.
What if I Was Involved in a Crash with a City or Other Municipal Vehicle ?
If you were involved in a crash with a municipal vehicle such as a police car, fire engine, or a municipal bus operated by the MTA, New York City Transit Authority, or some other municipal entity, a Notice of Claim must be filed against that entity within 90 days of the crash. This will preserve your right to bring a claim against the negligent operator of the bus or vehicle who caused your crash and injury.
What Else Should I Do After a Crash?
Preserve all the evidence. If you are wearing a helmet or other protective gear, make sure it is put aside and kept safe to preserve it for trial. Do not give a statement to anyone about the crash. Insurance companies can be tricky and although they seem friendly when on the phone, they are not your friends. Be as brief as possible and do not get into details about the crash.
If you sustained a "serious injury" in the crash, the law allows you to obtain compensation above and beyond the no-fault benefits (payment for your medical bills). The law allows you to collect damages for both past and future pain and suffering, loss of enjoyment of life, and past and future medical expenses that are not covered by no-fault or other private insurance. If you are involved in a crash, and your injuries are serious, we highly suggest contacting a competent bike crash litigation attorney to seek assistance in pursuing a claim.
---
If you are involved in a Citi-Bike or Bike Share crash, you need a New York Attorney who is also a cyclist and who understands the risks that New Yorkers face on the streets. Contact us today at (866) 352-6944.
---
Real People, Real Stories
Read What Our Past Clients Have to Say About Us
Daniel s a truly amazing person, honest, & a great human being.

Sameh E.

You will not find better than Cathy Flanzig!

David C.

Dan & his team were great & all was resolved favorably.

Michael K.
New York Bike Lawyers The Flanzig Difference
Leaders in the Safe Streets Movement

Committed Advocates for New York Cyclists

Top-Rated New York Attorneys

Dedicated to Helping Cyclists
Representing the Rights of Seriously Injured Cyclists
A Nationally Recognized Firm
Whether you have questions or you're ready to get started, our legal team is ready to help. Complete our form below or call us at (866) 352-6944.