New York Bike Messengers Collisions and Crashes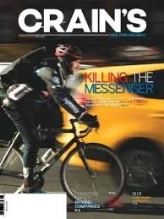 Bicycle Messengers know the risks associated with their job. They are under pressure to make fast deliveries despite traffic conditions, weather, and other obstacles faced while riding the city streets. For a bike messenger, these risks are an everyday occurrence.
A messenger knows what to look for and how avoid a crash, but even the most seasoned messenger or expert rider may still find themselves faced with a crash. As New York Bike Messenger crash lawyers, we understand how and why these crashes happen, as well as what the rider needs to get back on the road.
Daniel Flanzig Was Recently Quoted in Crains NY
To help bicycle messengers and all bicyclists in general, here are some safety tips that you can follow:
Keep yourself visible – Make sure that the other drivers can always see you. Wear bright colors and place lights and reflective materials on your bike on moving parts like pedals and wheels.
Follow controlling bike laws. Use bike lanes when available, ride with the direction of traffic and obey traffic signals.
Look out for the "Door Zone". One of the most common types of crashes are "doorings". Keep a vigilant look out ahead of exiting drivers and passengers in yellow taxi's and Ubers.
If you are involved in a bicycle messenger crash, here are your options:
Workers compensation – Although bike messengers work outside of a specific workplace, depending upon your status as an employee or independent contractor, you may be covered by worker's compensation.
No-Fault - If you are involved in a crash with a motor vehicle, no-fault benefits are available. Whether workers compensation benefits are available will help to determine whether no-fault will be available as well.
Lawsuit – You can sue the liable party that caused your injury, such as the driver who you collided with or the City for dangerous road conditions.
---
If you are a bike messenger involved in an crash or collision, contact our team today at (866) 352-6944.
---
Real People, Real Stories
Read What Our Past Clients Have to Say About Us
Daniel s a truly amazing person, honest, & a great human being.

Sameh E.

You will not find better than Cathy Flanzig!

David C.

Dan & his team were great & all was resolved favorably.

Michael K.
New York Bike Lawyers The Flanzig Difference
Leaders in the Safe Streets Movement

Committed Advocates for New York Cyclists

Top-Rated New York Attorneys

Dedicated to Helping Cyclists
Representing the Rights of Seriously Injured Cyclists
A Nationally Recognized Firm
Whether you have questions or you're ready to get started, our legal team is ready to help. Complete our form below or call us at (866) 352-6944.