How to Identity Insurance Companies on Police Reports
Identifying the insurance company that insures a vehicle involved in a crash is easy. The responding officer will obtain the information in the process of preparing a police or collision report.
The officer usually obtains this information when the driver produces an Insurance Card at the scene of the crash or by running the vehicle through the D.M.V.
Once the officer obtains the information, it is then placed on the report. The insurance company is identified by a three digit code located in the last box on the right next to the vehicle type. That three digit code will correspond to codes provided by the Department of Motor Vehicles and the New York State Insurance Department.
The three digit code can be found here on the report: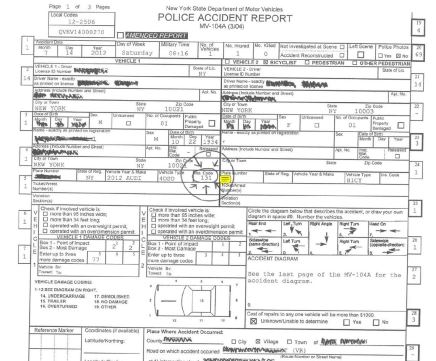 Once you have the code, you can look up the carrier by clicking on the link below:
A link to the name look-up is here:
Hit by a New Jersey Driver?
Hit by a Pennsylvania Driver?
If you have any other questions or concerns regarding your bike crash, please feel free to call us at (866) 352-6944.
Real People, Real Stories
Read What Our Past Clients Have to Say About Us
From the moment I contacted Flanzig & Flanzig, I recognized Daniel's professionalism, legal expertise & was easy to talk to. - Michelle M.

THE best bicycle lawyer around - M

We are forever grateful for they're team - Amanda C.

The Flanzig & Flanzig team were truly professional. - il Davide

I highly recommend Flanzig & Flanzig if you need a bike lawyer. - Happy Client