How to Obtain a Police Report
How to Obtain a Police Report in New York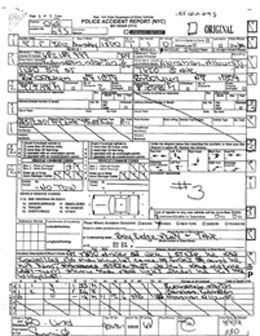 When the police are called to the scene of a crash, they are required to prepare a Police collision Report (P.A.R.), also known in New York as an MV-104. The report is to be prepared as accurately as possible and describe the details surrounding the crash. Our experience has taught us that accurate and complete is not always the case.
If you were involved in a crash in New York City, you can obtain a copy of the collision report from the police precinct from which the officer(s) responded. A link to locate the precincts in New York City is below. In Nassau and Suffolk Counties, the police reports can usually be obtained from the department headquarters or on line (see links below.) Villages in New York that maintain their own Police Agencies have their own internal procedures. Police reports are normally available within 24-48 hours after the crash. Most departments require a fee to be paid for obtaining the report.
The reports in most cases remain available in the precincts for several weeks after a crash. If no longer available, they can be obtained directly from the N.Y.S. Dept. of Motor Vehicles or from private vendors.
Additional links to help you find the report or precincts are here:
Nassau County Police Department Reports
---
If you have been involved in a bike or cycle crash and have additional questions about your rights to compensation as a result of your crash, contact us at (866) 352-6944.
---
Real People, Real Stories
Read What Our Past Clients Have to Say About Us
Daniel s a truly amazing person, honest, & a great human being.

Sameh E.

You will not find better than Cathy Flanzig!

David C.

Dan & his team were great & all was resolved favorably.

Michael K.
New York Bike Lawyers The Flanzig Difference
Leaders in the Safe Streets Movement

Committed Advocates for New York Cyclists

Top-Rated New York Attorneys

Dedicated to Helping Cyclists
Representing the Rights of Seriously Injured Cyclists
A Nationally Recognized Firm
Whether you have questions or you're ready to get started, our legal team is ready to help. Complete our form below or call us at (866) 352-6944.