VTL 1122(a)- Merill's Law
Law Passed in Honor of Bicyclists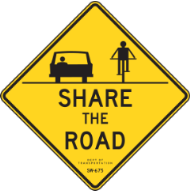 Gov. David Paterson signed into law a bill requiring motorists to maintain a "safe distance" when passing bike riders. The law is meant to reduce the number of bicycling crashes that occur throughout New York.
The bill added section 1122-A to New York's Traffic Law, which reads:
The operator of a vehicle overtaking from behind a bicycle, proceeding on the same side of a roadway, shall pass to the left of such bicycle at a safe distance until safely clear thereof.
Drivers who violate the law will be cited at minimum with a traffic offense. More serious charges could follow if the driver seriously injures or kills a bicyclist while passing at less than a reasonably safe distance.
Merrill's Law
Dubbed "Merrill's Law," the new safety measure for bicycle riders was passed in part due to an collision last November that took the life of 66-year-old bicyclist Merrill Cassel of Greenburg, New York. Cassel was riding his bike on Route 119 near White Plains, when a public bus sideswiped him. Cassel died of his injuries.
Following Cassel's death, three bicycling organizations, including the Westchester Putnam Bike Walk Alliance and the New York Bicycle Coalition, began lobbying State Assembly members to take action to protect bicyclists.
Originally, the proposed legislation included a requirement that drivers maintain a minimum of three feet when passing bicyclists. However, the three-foot requirement eventually was dropped in favor of the "safe distance" language. State legislators believed that situations could arise that required drivers to maintain more than three feet from riders, in order to ensure their safety. Of course, the "safe distance" language leaves plenty of ambiguity from case to case.
In states with bike passing laws, 16 of them require drivers to maintain a three-foot buffer zone, including Connecticut and New Hampshire. Eight states, including Oregon and Washington, have laws similar to New York's and require motorists to maintain a safe distance when passing bicyclists.
Real People, Real Stories
Read What Our Past Clients Have to Say About Us
Daniel s a truly amazing person, honest, & a great human being.

Sameh E.

You will not find better than Cathy Flanzig!

David C.

Dan & his team were great & all was resolved favorably.

Michael K.
New York Bike Lawyers The Flanzig Difference
Leaders in the Safe Streets Movement

Committed Advocates for New York Cyclists

Top-Rated New York Attorneys

Dedicated to Helping Cyclists
Representing the Rights of Seriously Injured Cyclists
A Nationally Recognized Firm
Whether you have questions or you're ready to get started, our legal team is ready to help. Complete our form below or call us at (866) 352-6944.