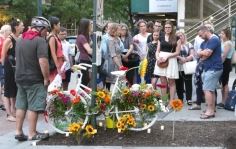 Killer of Olga Cook to Plead Guilty to all Charges
The New Jersey man charged with manslaughter for striking and killing cyclist Olga Cook on the West Side Highway has agreed to plead guilty to all charges.
In June of 2016, the 26-year-old driver, from Newark, was heading southbound on West St. in his 2011 Ford truck around 7:50 p.m. when he made a right turn onto Chambers St. and struck and killed Olga who was lawfully cycling in the bike lane. Olga was taken to Bellevue Hospital where she later died.
The driver was charged with leaving the scene of an collision, failure to yield to a pedestrian and driving while impaired — the latter because he tested .062 on an alcohol test at the scene of his arrest, according to a police spokesman.
An off-duty MTA officer, later identified as Otis Noboa in news reports, detained the driver at Warren St. and North End Ave. in Battery Park City around 8 p.m. According to police, he found the driver sitting stoically in his white truck.
Before a pre-trial hearing was scheduled to begin on January 25, 2017, in New York Criminal Court, our office was advised by the District Attorney that the defendant had agreed to plead guilty to the top charge of Leaving the Scene of an collision , a D Felony, Criminally Negligent Homicide, an E Felony, and Driving While Impaired, a Traffic Infraction. It is unclear if the Defendant will also plead guilty to NYC's "Right of way Law" 19-190. Sentencing is presently scheduled for February 22, 2017.
While the criminal trial has been pending, our office has filed our intent to pursue a claim against the City of New York and the State of New York for the negligent design and configuration of the intersection, a condition well known to these agencies. Over the last 5 years there has been a reported 17 crashes at the location leading to serious injuries, several that involved southbound vehicles turning over the bike path. Since the happening of this crash, and the filing of this claim, the NYC Dept. of Transportation has reconfigured the crash location by adding high-visibility crosswalk markings and replacing missing bollards. In addition, the City has added an additional signal phase for traffic lights at the intersection, so that motorists turning onto Chambers St. from West St. will never share the right of way with pedestrians and bicyclists crossing Chambers St. It is our hope that this claim will force these agencies to address the balance of the West Side Hwy cross overs that remain dangerous to cyclists, pedestrians and other vulnerable road users.