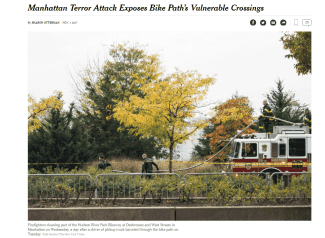 Quarter of a Million Dollar Settlement Obtained for Cyclist Injured on Hudson River Bike Path
The tragic Halloween attack along the West Side Highway Bike Path bought to light the vulnerability of cyclists using this path. However, well before this event occurred, the dangers of this path have been well known to this office.
This week we resolved our third case in the last 2 years for a cyclist injured by a turning vehicle across the Hudson River Bike Path.
In June of this year, our client was riding uptown on the bike path when he was struck by a truck that attempted to execute a right turn off the Highway at Murray Street and across the Bike Path. While attempting the turn, the driver struck our client who was cycling through the intersection with the right-of-way. As a result of the impact he sustained a serious shoulder injury requiring surgery. With the crash just occurring this past June, it was quickly resolved after we secured a very favorable statement from a fellow cyclist riding behind our client who witnessed the entire event.
Currently we are still currently ligating three more crashes along this path. Although some of the intersections have been redesigned with turn arrows, the majority of these crossings still leave cyclists vulnerable to turning vehicles. If you ride this route, please be careful.