Settlement Reached with the City of New York for Cyclist Doored by Fire Truck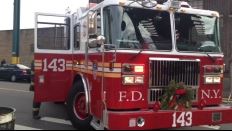 The FDNY has learned the hard way the cost of its member's failing to look when opening a door, even the door of a Fire Truck!
In the Spring of 2015, our client was cycling Northbound in the protected bike lane on First Avenue in Manhattan. As she passing an inactive New York City Fire Truck parked adjacent to the bike lane, a firefighter attempted to exit the rear compartment of the truck. When he opened the large compartment door, it entered the bike lane with the edge of the door striking the cylcist's right finger. The impact caused a "burst injury" lacerating her finger and disrupting tendons. The injury ultimately required surgery to repair the tendon damage.
This week we obtained a settlement with the City of New York while the case was still pending in the Supreme Court, New York County.
Whether its a cab, Uber vehicle, private car or a even a Fire Truck, the laws of the State of New York and the City of New York remain the same:
In New York State:
Section 1214 of the Vehicle and Traffic law states "opening and closing vehicle doors – "No person shall open the door of a motor vehicle on the side available to moving traffic, and until it is reasonably safe to do so and can be done without interfering with the movement of other traffic, nor shall a person leave a door open on the side of a vehicle available to moving traffic for a period of time longer than necessary to load or unload passengers."
The law in the the City of New York has the following additional code:
NYCRR- Section 4-12-(c) Getting Out of Vehicle: "No person shall get out of any vehicle from the side facing on the traveled part of the street in such manner as to interfere with the right of the operator of an approaching vehicle or a bicycle".
In New York City, a cyclist has the benefit of both the NYS Vehicle and Traffic Law and the NYC Administrative Code to protect against a dooring crash.
To learn more about our other dooring cases click here.