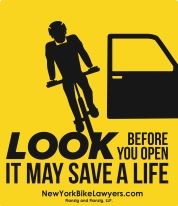 $210,000.00 RECOVERY FOR CYCLISTS "DOORED" IN MANHATTAN
Daniel Flanzig obtained a $210,000.00 recovery for cyclist "doored" in the West Village. The cyclist, a model and bartender, was "doored" on 13th Street in Manhattan. The crash occurred when the driver opened his car door into the path of our approaching client after he had parked his car. In New York, the opening of a car door into the path of an approaching cyclist violates Vehicle and Traffic Law 1214 and NYC Admin Code 4-12(c).
As a result of the crash our client sustained a severe laceration to his bicep requiring surgery to repair. The settlement was reached before trial in the Supreme Court, New York County.