My New Monthly Column On Legal Issues Facing Cyclists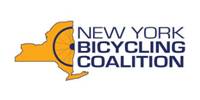 I am a longtime supporter of the New York Bicycling Coalition, the State's largest NY bicycle advocacy group.
Starting this past month, I have been asked to co-author a monthly column on the NYBC's website on legal issues facing bicyclists in New York State. My co-author is another bicycle crash attorney, James Reed of Elmira, NY. We are both active trial lawyers on behalf of bicyclists in New York State.
Our first collaboration is "A Guide to Understanding Bicycle Damage Claims in NYS."
One of the most common calls Jim and I receive is from bicyclists asking whether they need to hire a lawyer to pursue a property damage claim after they have had their bike damaged or totaled by a motorist.
If the bicyclist was injured, then our law firms can definitely help represent the injured person.
But if the bicyclist was not injured and still wants to file a claim, they can likely do that without the services of a lawyer.
Our first column explains the process and the steps you'll need to take to protect yourself and successfully be reimbursed for the damages. Please remember that you are entitled to be compensated for the cost of repairs. If the bike cannot be repaired, you are entitled to the replacement value of your bike. Do not let the insurance company convince you that you should settle for a "depreciated" value of your bike.
.
We suggest five basic steps in the column, and you'll have to read the column to read more about each step, but here are the broad steps you must take to get your claim moving:
1. Get a copy of the police report.
2. Locate the driver's insurance company on the police report.
3. Take pictures of your damaged bicycle.
4. Get one or more estimates for the repairs.
5. Document other damages that you will claim.
Once you have gathered all of your evidence, it's time to call the insurance company to file the claim.
Thanks for reading, and please take some time to read the full column. Feel free to share your comments below, as always!
Daniel