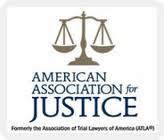 On Wednesday, June 19 from 2:00 – 3:30 pm EDT I will be joining an experienced group of bicycle experts in one of the first Bike Crash Litigation Webinars ever produced by the American Association of Justice. I will be opening the webinar with Bike Law 101, the basics of handling a bike crash case. The other experienced faculty members are experts in the field of roadway design and factors that contribute to a crash as well as product liability claims involving bicycle design and assembly. The details of this event are below.
This webinar is a must for any trial lawyer handling cases involving bicycle crashes or collisions. For more information or to register, visit www.justice.org/bike.
I hope you can join us for what we plan to be an exciting and educational webinar on this emerging area of Personal Injury Litigation.
Register Now for AAJ Education's Bicycle Crash Litigation Webinar—June 19 at 2:00 PM EDT
Join AAJ Education for a plaintiff trial lawyer's guide to handling bicycle crash cases. Experienced faculty will open the webinar with Bike Law 101 providing a background on bicycle litigation, as well as hazards and investigations affiliated with bicycle crashes. The faculty will also explore bicycle materials, design, assembly, and maintenance and discuss why these are paramount to rider safety.
This webinar is a valuable resource for any trial lawyer handling cases involving bicycle crashes or collisions.
Invited Faculty Include:
C. William Brewer
Robson Forensic
Charleston, SC

J. Lucas Elrath
Robson Forensic
Philadelphia, PA

Daniel Flanzig
Flanzig & Flanzig, LLP
Mineola, NY

Thomas D. Penfield
Casey Gerry Schenk Francavilla
Blatt & Penfield, L.L.P.
San Diego, CA
About AAJ's Bicycle Litigation Group
The Bicycle Litigation Group focuses on issues that directly relate to injured cyclists, including products liability, motor vehicle collisions, roadway design, and government liability. The purpose of this group is to create a structured forum for AAJ members to share information and strategies as well as improve their advocacy on behalf of injured cyclists.