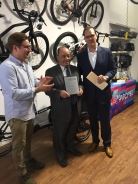 Chris Nolte, Sen. Dilan, and Daniel Flanzig of NYBC
Daniel Flanzig, a Board and Executive Committee Member of The New York Bicycling Coalition, along with leading electric bicycle retailer Propel Bikes, were proud to honor State Senator Martin Dilan with the first "Champion of E-Bikes Award" on October 24, 2016 at Propel Bikes in Brooklyn.
Electric bicycles were available for test rides for all attendees and members of the
public. "We had over a dozen different models of e-bikes to test ride, as well as
complimentary refreshments thanks to one of our biggest supports, Bosch eBike
Systems," said Chris Nolte, the owner of Propel Bikes, the event's host.
Low speed pedal-assist electric bikes – ones that must be pedaled to use the motor and
that operate similarly to a traditional bicycle – are improving mobility in hundreds of
cities throughout the world. However, their use in New York State is slow to rise. New
York has outdated electric bicycle laws that are confusing to understand and don't apply
to the modern day electric bicycle technology.
"People often think they know what it is like to ride an electric bicycle, but as soon as
they get on one, it's a completely different experience than what they imagined, and feels
like riding a traditional bicycle," according to Paul Winkeller, executive director of the
New York Bicycling Coalition. "It's an exciting way to get around without paying for gas
or parking."
The New York Bicycling Coalition has been working with pedal assist e-bike retailers
like Propel Bikes and legislative champions like State Senator Martin Dilan to clarify the
legal status of pedal-assist electric bikes as simply another class of bicycles to serve the
health, recreation, wellness and transportation needs of all New Yorkers.
---
About the New York Bicycle Coalition
The New York Bicycling Coalition (NYBC) is the premier resource for bicycling advocacy and
information in New York State. NYBC's mission is to provide a voice for bicyclists throughout New York State and we envision a future where bicyclists feel safe, respected, and fully integrated into the
transportation system. For more information, visit http://www.nybc.net