Suffolk Cops Get Training on Pedestrian, Bicyclist Safety
Updated
By Darran Simon darran.simon@newsday.com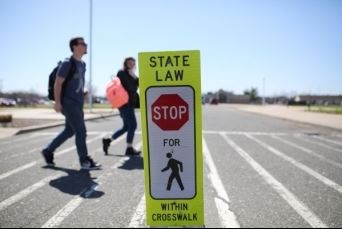 Photo Credit: Barry Sloan
Peter Flucke stuck out a leg and a hand but didn't fully enter the crosswalk until he made eye contact with an approaching driver.
The demonstration was held Tuesday in Brentwood — part of a state push to boost officer training on how to keep pedestrians and bicyclists safe."We really want the pedestrians to take responsibility to cross in a safe manner," said Flucke, president of Wisconsin-based WE BIKE, which offers pedestrian and bicycle safety training. "And then for the motorist, what we need them to do is always be looking for pedestrians. So it's really a shared responsibility: the pedestrian doing their part, the motorist doing their part."
More than two dozen officers from Long Island police departments, including Southold, Hempstead and Garden City, attended the training, hosted by the Suffolk County Police Department at its academy on the Suffolk County Community College campus.
The two-day course included an overview of bicycle and pedestrian safety, including insight on how crashes occur. One of Tuesday's exercises showed officers how to set up a pedestrian safety-enforcement operation and identify when motorists and pedestrians are breaking the law.
"One of things that we know is that police officers can't enforce laws they don't know," said Flucke, a former law enforcement officer in Minnesota.
Daniel Flanzig, who serves on the board of the New York Bicycling Coalition, a bike advocacy group, said he attended to witness the new training.
"I think these officers are really highly motivated to learn more about keeping us safer on the roads," said Flanzig, a Mineola attorney who has represented pedestrian and cyclist crash victims.
In Suffolk, more than 40 percent of the 142 traffic fatalities last year involved pedestrians and bicyclists, said Police Commissioner Timothy Sini.
Funding for the training comes from the Governor's Traffic Safety Committee, which awards federal highway safety grants to local, state and nonprofit agencies for projects aimed at improving safety and reducing crashes.