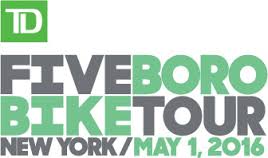 Flanzig and Flanzig, LLP. - NewYorkBikeLawyers.com, are proud to be a continuing sponsor of the 2016 TD Five Boro Bike Tour. Come visit us at the NY Bike Expo on April 29th and 30th (Booth 318) to ask your bike law questions and to enter to win a free New York Bike Lawyers Race Jersey!
Think you know your Bike Law? Join us on Saturday morning, April 30th, at 11:00 AM when Bike New York, in conjunction with Daniel Flanzig, will hold a NY "Bike Law" challenge. See you at the event stage!
Have a great Ride NY!