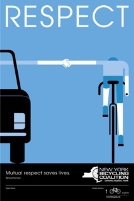 I am pleased to announce that in addition to being a Member of the Board of Directors, I have now become a member of the Executive Committee of the New York Bicycling Coalition.
This has been an amazing year for NYBC with our first push for a 3 foot law in New York, our e-bike campaign, and the incredible start of our Long Island Chapter.
This is all thanks to the leadership of our President Jim Reed, our Executive Director, Paul Winkeller, as well as the other members of our Board. A special thanks to the hard work of our LI staff, Allison Blanchette and Jenn Solomon who drive the Long Island chapter.
Ride safe all and continue to support ‪#‎NYBC‬