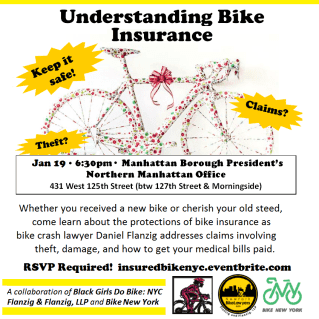 Understanding Bike Insurance
Whether you got a new bike for the holidays or continue to cherish your old steed, attend this 1 hour presentation to better understand the ever expanding bike insurance market. Learn as bike crash lawyer Daniel Flanzig addresses claims involving theft or damage to your bike as well as how to get your medical bills paid after a crash.
A collaboration of Black Girls Do Bike NYC, Flanzig and Flanzig, LLP, and Bike New York.
Limited spaces available. RSVP early!
RSVP HERE
https://www.eventbrite.com/e/understanding-bike-insurance-tickets-20219058749
WHEN
WHERE

Manhattan Borough President's (Northern Manhattan) Office - 431 West 125th Street New York, NY 10027 - View Map