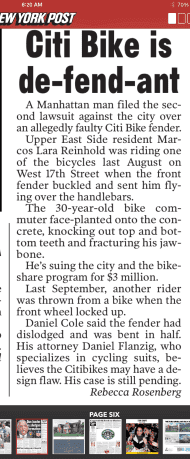 A Manhattan man filed the second lawsuit against the city over an allegedly faulty Citi Bike fender.
Upper East Side resident Marcos Lara Reinhold was riding one of the bicycles last August on West 17th Street when the front fender buckled and sent him flying over the handlebars.
The 30-year-old bike commuter face-planted onto the concrete, knocking out top and bottom teeth and fracturing his jawbone. He's suing the city and the bike- share program for $3 million.
Last September, another rider was thrown from a bike when the front wheel locked up.
Daniel Cole said the fender had dislodged and was bent in half. His attorney Daniel Flanzig, who specializes in cycling suits, believes the Citibikes may have a design flaw. His case is still pending.