Daniel Flanzig obtained a liability verdict in Queens County against a NYC Taxi cab company and it's driver. A Queens County jury found the driver 100% at fault for the crash requiring the carrier, American Transit Insurance Company to tender their full policy limits of $100,000.00 dollars to our client. For those not familiar with this insurance company, they insure 90% of cabs operating in NYC. They are notorious in failing to pay claims, including no-fault and property damage. This case was no different.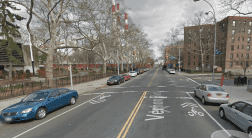 Location of the Crash in Queens, NY
The case involved a crash of a 19 year old cyclist crossingg Vernon Blvd at 41st Avenue in Long Island City, Queens. Our client was crossing Vernon Blvd with the light in his favor and utilizing the crosswalk at the location when he was struck by the cab. The Defendant cab driver claimed that our client crossed outside the intersection, 20 feet South of the crash location, and against the traffic signal. The Jury trial addressed the issue of liability only. Prior to trial, the Insurance Company offered only $25,000.00 to settle the claim.
After a two day trial, the Jury came back with a verdict of 100% fault against the driver. Given the severity of our clients injuries, which included a fractured wrist and tibia, American Transit tendered their insureds full policy limits of $100,000.00 avoiding a trial on damages. As a result of the verdict, the clients recovery was four times greater that the pre-trial offer.
Currently our firm is litigating over 35 cases on behalf NY cyclists involved in crashes with vehicles insured with American Transit. We assist our clients in navigating the no-fault process with this difficult carrier as well as bring about full compensation for injuries sustained in the crash.
If you were involved in a crash with an American Transit insured vehicle as a cyclist, pedestrian, driver or passenger, we can assist you in getting the compensation you deserve.