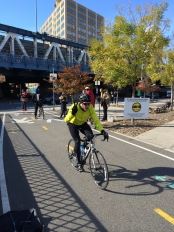 Free Bike Lights in Brooklyn Takes on a New Meaning This Year
On Sunday November 2 nd , our firm held it's Second Annual Daylight Savings Day Bike Light Giveaway. On a cold sunny afternoon in Brooklyn, we handed out over 250 free bike lights under the shadow of the Manhattan Bridge. The event helped hundreds of Brooklyn Cyclists get ready for Daylight Savings Day and their commute home in the dark.
The event took on a special meaning this year. Joining us at the event was our client, Franci Brenner, the mother of Matthew Brenner, a Brooklyn Cyclist killed at that location this past summer. The event was dedicated in Matt's honor and as a tribute to his life. In fact, the event will now permanently be held in Matt Brenner's honor.
Matt's Story was detailed in an article written by Alizah Salario entitled "Life Unparalled". A portion of the article is below: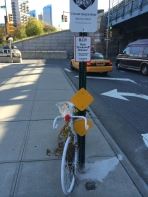 Life Unparalleled
Matthew Brenner was the kind of guy who made friends at the corner bodega. An Air Force veteran and a talented artist, Brenner had moved to New York last June to attend the Fashion Institute of Technology and pursue his passion for design. But his dream was cut short on July 6th, 2014, when Brenner, a former bike courier, was cycling near the entrance to the Manhattan Bridge bike path in Brooklyn and struck and killed by a 25-year-old woman pulling onto the Brooklyn Queens Expressway.
On Saturday, October 18th, just a day before what would have been his 30th birthday, Matthew's mother Franci Brenner stood near the site of her son's fatal crash. At her feet, his name was freshly spray painted onto the sidewalk, along with white wings surrounded by crimson flowers and the words she'd chosen to commemorate her son: "A Force of Life Unparalleled." Ms. Brenner spoke to a small crowd as the N train roared across the Manhattan Bridge overhead.
Franci traveled all the way from Texas to join us at the event. In the short time since Matt's death Franci has become a vocal advocate seeking justice for fallen cyclists and pedestrians. She has joined numerous groups such as Family for Safe Streets, Right of Way, and has become zealous in the pursuit for #visionzero here in New York.
Just weeks before the giveaway Franci was in New York for the installation of a Ghost Bike at the site of Matt's crash. The Ghost bike will be permanently displayed nearby to the site of Matt's Crash. On that same day, Right of Way stenciled a beautiful set of wings at the site of the crash as well.
Franci Brenner is a true inspiration. She is a member of a club where no mother belongs; those who have lost their children to street violence. Where others would shut down, and mourn quietly, Franci refuses. Whether standing in the cold handing out bike lights, or petitioning the DOT to correct the dangerous street design at the site of Matt's death, Franci is dedicated to bringing about change for cyclists here in New York.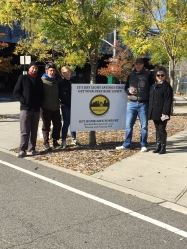 .