August 31, 2012 / Brooklyn news / Mean Streets
Wheels of justice: Lawyer designs bike crash phone app for cyclists in need
BY NATALIE O'NEILL
Attorney Daniel Flanzig developed a "Bike Crash Kit" phone app intended to help cyclists build their cases against motorists after accidents.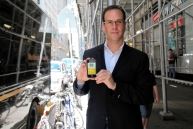 Need to sue the jerk who ran you over? There's an app for that. Tech-savvy Brooklyn cyclists can now gather post-crash evidence via a smartphone application thanks to a bike-boosting lawyer who introduced the technology in an attempt to help pedal-pushers build their cases. Daniel Flanzig's "Bike Crash Kit" includes a voice recorder, camera, and a drawing pad to help cyclists document facts at the scene — before the adrenaline even wears off. "Normally a rider involved in such a violent and traumatic incident can't think clearly," saidFlanzig, a personal injury lawyer. "With the app they can just follow the guide." Flanzig — who said most of the 400 users who have downloaded his app are from Brooklyn — partnered with a tech specialist to work on the idea after encountering clients who scribbled notes on paper or were already using evidence collected via smartphones in the aftermath of crashes. The app helps cyclists quickly document the position of cars and bikes, record witness testimony, and jot down notes in a more organized manner, he said. Flanzig claims he has come across plenty of Brooklyn cases in which the app could have helped — like one in which a car made an illegal turn and smashed into a waiter who was biking on Kent Street.
That case is just one of many of crashes in the borough, which is quickly becoming America's cycling capital — despite dozens of vehicle-on-cyclist collisions reported annually. That's part of the reason Flanzig thinks his app, which is available for iPhones and Android devices, will gain traction in Brooklyn's two-wheeled scene. "Brooklyn's cycling community can appreciate this unique concept," he said.
Reach reporter Natalie O'Neill at noneill@cnglocal.com or by calling her at (718) 260-4505.