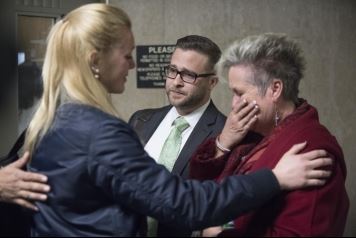 Gabriela Maia, fiancee of defendant Samuel Silva, speaks with family of victim Olga Cook
"I'm so sorry," a sobbing Gabriela Maia told Travis Cook in Manhattan court Wednesday after her fiancé was sent to prison for mowing down Cook's wife and leaving her to die as he fled the scene.
The two embraced and Travis, 34, told her that he had forgiven Samuel Silva for drinking and driving, ramming into wife Olga, 30, as she rode her bicycle in June 2016.
Silva was sentenced to 1 ¹/₃ to 4 years in prison for the Tribeca hit-and-run.
Maia, a dog walker from Brazil, told him that she and Silvas' family have also suffered for his crime.
Silva was driving to meet Maia when he turned right from West Street onto Chambers Street in his Ford F-150 and struck Olga, who was traveling northbound on the Hudson River Greenway. He kept driving and was arrested three blocks from the scene. The young woman from Genoa, Italy, was training for a triathlon.
"I forgive him for his mistake, but he made a decision to drink and drive that day," Travis said after the sentencing. Silva, who apologized to the victim's family in court, blew a .064 hours after the crash, below the legal limit of .08 for driving, according to police.
The grieving husband had been married for less than a year and struggled to hold back tears as he spoke of his wife.
"She was the sunshine of everybody's life," he said flanked by his mother, Yvonne Cook, and Olga's best friend, Dorina Valentine. "She made everyone smile. She loved to cook and travel."
Silva, 27, briefly addressed the court, apologizing to Olga's family and promising he'd do everything he could to make amends for his crime, as his fiancé wept in the gallery.
He previously pleaded guilty as part of a plea deal to criminally negligent homicide, leaving the scene of an collision and driving while impaired.
Travis has a pending civil suit against the city and state for failing to remedy the dangerous intersection at West and Chambers streets, court records show.
There had been 17 collisions there resulting in serious injury in the five years prior to Olga's death, said Travis' civil lawyer, Daniel Flanzig.
Both Olga and Silva had the right of way when he turned onto Chambers Street and struck her as she pedaled north June 11, 2016, the lawyer said.
The city has since made the intersection safer by installing a turn signal but should have done so before this tragedy, Flanzig said.
"Fleeing the scene of a crash is not only illegal; it's an act of cowardice," said Manhattan District Attorney Cyrus R. Vance Jr. in a statement. "Samuel Silva's negligence killed a woman—a newlywed and a triathlete— in the prime of her life."
The city and state didn't immediately return requests for comment.