Long Island Bike Club Tour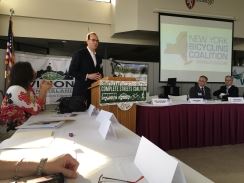 Its a busy week for me on the Long Island Bike Club Tour. Last night I was honored to speak at Suffolk County Bike Riders Association advising the Club on the goals and achievements of the New York Bicycling Coalition on which I serve on the Board of Directors and as a legal advisor. It was a great crowd who all pledge to help support NYBC.
This Monday, June 6th at 8pm I will be speaking at the Massapequa Bike Club at the Massapequa Park Village Hall,151 Front Street – Basement Level, Massapequa Park. I will be presenting on "What you need to know if you are involved in a Bike Crash" and more specifically, "Bike Law for Long Island Cyclists".
On Wednesday, June 8th I will be speaking at the Huntington Bike Club, at the Harborfields Public Library 31 Broadway, Greenlawn, NY at 7:00 PM. As this my third time speaking at the Club, I will be up dating the members on changes in bike laws in NY, what they need to know to keep them safe on the road, and we will be discussing the work NYBC has been doing to help keep NY cyclists safer on the road.
I hope you can attend one of these two meetings.
Ride Safe !