$160,000 Recovery from Construction Company for Cyclist involved in Near Miss in Brooklyn Bike Lane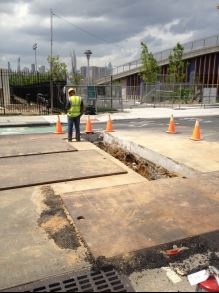 Our client was biking in the Kent Ave. bike lane in Brooklyn. As he approached a construction site, a truck entered the bike lane in the opposite direction and started down the bike lane. With no where to go, he jumped the sidewalk to avoid the oncoming truck, crashed, and fractured his wrist. The truck never stopped and was not identified.
Unbeknownst to the cyclist, the Construction Company had closed the street due to a large street excavation (see photo) and was diverting traffic into the bike lane. Although required to have proper signage to alert cyclists about the construction, none was present. They further failed to have flagmen present to control bike traffic.The video taken the next day demonstrates how bike and vehicle traffic was to be controlled at the location. The case was settled prior to trial in the Supreme Court, Kings County.