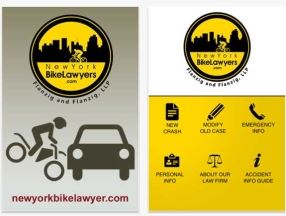 We have re-released New York's first Bike Crash App in the Google Plus/Android Market Place. The new release contains updates compatible with current phones as well as a spanish language conversion.
THE BIKE CRASH KIT is available for FREE in the Android Marketplace and iTunes App Store, so download it now! The application assists cyclists in gathering all necessary data after a crash. This includes the driver and vehicle owner's name, insurance information , witness information, responding police officer's name, report number, and precinct. It will also geo-tag the collision location, assist in taking photos of the accident scene and vehicles , record witness statements, and offer a sketch pad to diagram vehicle and cycle movement before and after the crash. If the collision involves a vehicle blocking a bike lane, or occurs as a result of a street defect such as a pothole, defective manhole cover, or grating, this defect can be documented by photo or sketch.
It is also our goal to allow this application to be used by advocacy groups to collect crash data in an organized format that can be easily e-mailed to crash stat, the NYPD, 311, or other organizations collecting data on bike and cycle crashes. This app furthers our goal to help promote bike safety and education on the rights and laws afforded to protect New York's cyclists. The application is now available on both the Android and Apple platforms!
---
Features:
1. The application contains utilities such as camera, voice recorder, text notepad and drawing pad to properly document vehicle and bike positions, street defects, or other causes of the crash.
2. Automatic GPS location – By a click of a button your current location information, such street names, city, state and country are automatically retrieved.
3. Easy mailing: The collected information can be easily sent to our firm through a single email report.
4. Call emergency number button 911 or other emergency contact person, or even our office.
5. Locate a Hospital.
6. Locate a Bike Shop.
7. Locate a Taxi or Car Service.
8. FAQ section - Contains important information for cyclists to know both before and after a car crash.
9. About our Firm Section: Brief introduction your firm with location details and the link to your website
If you have been injured in a cycling or bike crash in Manhattan, The Bronx, Brooklyn, Staten Island, Westchester, Nassau or Suffolk Counties, or Queens, contact New York's Bike and Cycle Lawyers/Flanzig and Flanzig @ 1-866-Flanzig, 516-741-8222, or through e-mail by clicking here.