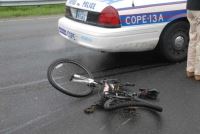 Bicycle deaths are dropping on LI, but riders say roads still unsafe
Updated June 6, 2015 7:41 PM
By WILLIAM MURPHY
The number of bicyclists killed in accidents with motor vehicles declined in Nassau and Suffolk counties between 2011 and 2013, but many cyclists say they don't feel any safer on Long Island roads.
Two harsh winters in a row have left many of the Island's roads in poor shape, and most accidents -- but not fatalities -- are caused by roadways, not motor vehicles, riders contend.
"When we started riding in earnest in early March there were lots of potholes, and there seemed to be more this year, and lots of sand and debris on the shoulders," said Arne Johnson, safety chairman of his local bicycle club in Huntington.
Wind whipped up by passing cars pushes debris onto the shoulder, and leftover salt and sand from winter operations make bicycle travel on roadsides unstable, he said.
"Obviously your goal is to stay out of the way of cars, but when the shoulders have sand, sometimes you have to go in the lane with cars, which is what you never want to do," said Johnson, 66.
There were 17 cyclist fatalities on Long Island involving motor vehicles in 2011, 10 in 2012 and nine in 2013, mirroring a state decline, according to the most recent statistics from the state Department of Motor Vehicles. Statewide, there were 57 bicyclist fatalities in 2011, 45 in 2012 and 40 in 2013, DMV data show.
But nationally, the death rate for bicyclists has trended upward, increasing 16 percent from 2010 through 2012. There were 621 bicyclist deaths in motor vehicle accidents in 2010, 680 in 2011 and 722 in 2012, according to a report last October from the Governors Highway Safety Association.
Among those killed on Long Island in recent years in crashes with vehicles were Ricardo Fernandez, 44, of Amityville, who was riding a LeMond racing bike on a service road off the Long Island Expressway, and Felicia Ruperto, 52, a Medford mother of two who had just begun riding for exercise when she was hit by a minivan. Bradford Packer, 51, of Centereach, an unemployed nurse, left his safety helmet home the night he died, and Stony Brook University senior Seong Hoon Baek, 21, of Flushing, was killed on the way back to his dorm.
One possible reason for the decrease in such deaths on Long Island is that more cyclists are riding in groups, making it easier for motorists to spot them, said Joseph De Palma, president of the Long Island Bicycle Coalition.
"I've stopped riding alone," said De Palma, 59, of East Setauket. "Now you see two or three people with yellow jerseys as opposed to one guy in the shadows. You have more visibility."
Sal Levy, 67, of Huntington, agreed with De Palma that "cyclists have learned to make themselves more visible" in recent years.
"I started with bright, flashing lights on the front and back years ago. Nearly everyone has them now," Levy said. "The flashing lights can be seen clearly from a distance . . . "
Long Island roads wind through state, county, town and village jurisdictions, and there was no clear consensus among riders on which areas have the worst road conditions.
"It doesn't matter where you go, conditions are pretty much the same," Levy said.
Veronica Vanderpool, executive director of the Tri-State Transportation Campaign, said the state Department of Transportation and some local jurisdictions have become more responsive about the safety of pedestrians and bicyclists on Long Island roads.
The renovation of Route 347, for example, includes bike paths. "A lot of the infrastructure put in place has safety benefits for both of those groups," she said.
But other thoroughfares can be especially hazardous, cyclists warned.
Johnson said he shies away from southern Nassau streets because they are narrow and busy. "You can't ride a bicycle on Merrick Road. It might be legal, but it's a death wish," he said.
Most bicycle club members interviewed said they preferred riding the local streets in northern areas of Long Island, such as Cold Spring Harbor in Suffolk, and Locust Valley and Sea Cliff in Nassau, because they are not as busy and are more scenic. Other cyclists urged fellow riders to avoid LIE service roads after the winter, because there are lots of potholes.
Johnson, of the Huntington Bicycle Club, which has between 225 and 250 members, and others said people who ride in groups, ride regularly, obey rules of the road and wear proper safety equipment are the least likely to be hit by an auto.
"You see people riding without helmets, riding against traffic, riding alone, riding at night -- those tend to be most of your fatalities," De Palma said.
Of the 40 bicycle riders killed in the state in 2013, 30 were not wearing safety helmets, three were wearing helmets and it was unknown whether the remaining seven had helmets, according to the DMV. Helmets are required by law in New York State just for riders 14 and younger.
Alcohol was also a factor nationwide, according to the report from the Governors Highway Safety Association.
"Despite the association of biking with healthy lifestyles and environmental benefits, a surprisingly large number of fatally injured bicyclists have blood-alcohol concentrations [BACs] of 0.08% or higher," the legal limit in most states, the report said.
"What's notable here is that the percentage of fatally injured bicyclists with high BACs has remained relatively constant since the early 1980s and did not mirror the sharp drop in alcohol-impaired driving that occurred among passenger vehicle drivers in the 1980s and 1990s," the safety group said in a news release accompanying the report.
For those who want to stay off public streets, there are dozens of bicycle paths around the Island. New York State lists 20 biking trails, ranging from 6.3 paved miles looping around Mitchel Field in the heart of Nassau to the riverfront bike path, four-tenths of a mile, in downtown Riverhead.
Still, cyclists have differing opinions on bike paths and lanes set aside for them on some major roads. Some riders like them, but many prefer back roads.
"The paths are really multiuse, used by joggers and skateboarders," Johnson said. "You can ride a bike, but you can't go fast. Most of us prefer streets."
De Palma said that although he does not always look for bicycle lanes, he lobbied for creating more of them. "People feel more confident taking a bicycle path or a bicycle lane, and feel more confident taking their children on those paths," he said.
Last month, about two dozen riders from the Mineola Bicycle Club, with about 370 members, gathered in a parking lot before taking a ride of silence through village streets in memory of cyclists who have been killed over the years.
"We try to be very vigilant while we ride," said Gilbert Omega, 42, of Elmont. "When we ride as a group, the leader usually points out if there's some debris on the road or potholes."