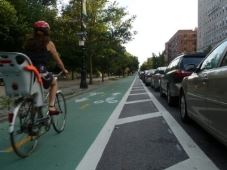 Rotten roads are costing the city millions in payouts to scores of bicyclists who have been injured or even killed. Since 2005, the city has shelled out $3.8 million - or an average of $29,000 each - to 132 bikers who sued. An additional 260 cyclists have sued since 2006. The settlements and jury awards mostly involved bikers who tumbled over potholes, poorly visible speed bumps or bad patches of bridge. The largest payment - $750,000 - went to Rafael Cruz, who took a header riding off the Queens side of the Queensboro Bridge in August 2002. Cruz, 39, was returning home from his night job and didn't spot massive potholes pocking Queens Plaza.
The city settled in 2007 after Katz showed the dangerous pothole had been reported but was not repaired within 15 days - a violation of the law.
Another giant payment went to the Queens family of Christopher Scott, an 11-year-old who was fatally hit by a car while riding his BMX-style bike at 46th Ave. and the Clearview Expressway service road in 2000.
At the same intersection six years earlier, another 11-year-old boy was killed on his bike, but the Department of Transportation did not introduce traffic-slowing devices.
Scott's family sued the city over poor visibility and the lack of a traffic sign or light at the intersection. A jury awarded $4.5 million, but the judge lowered it to $306,644.
The bike advocacy group Transportation Alternatives said the city could save money it spends on lawsuits by beefing up maintenance of roadways that have heavier bike traffic.
"A pothole is much more dangerous for cyclists than it is for a motorist," said the group's spokeswoman, Kim Martineau. She said the path along the East Side waterfront in Manhattan generates a high number of complaints because of narrow paths and potholes.
Samantha MacBride, 44, knows its dangers.In June 2003, the Murray resident was commuting home when she took a spill over a speed bump that had been stripped of its warning paint. She broke both arms.She sued the city, and it eventually settled for $250,000.
"The roadway in the East River Park is still terrible to ride on," she said. "It has potholes all over it. I assume they're going to fix it."
DOT declined to comment on the suits but said it has filled more 300,000 potholes and repaved nearly 900 miles in the past fiscal year.
"DOT is aggressively resurfacing and reengineering New York City's streets to make them safer for everyone who uses them," the agency said in a statement.