Identifying the insurance company that insures a vehicle involved in a crash is easy. The responding officer will obtain the information in the process of preparing a police or collision report.
The officer usually obtains this information when the driver produces an Insurance Card at the scene of the crash or by running the vehicle through the D.M.V.
Once the officer obtains the information it is then placed on the report. The insurance company is identified by a three digit code located in the last box on the right next to the Vehicle type. That three digit code will correspond to codes provide by the Department of Motor Vehicle and the New York State Insurance Department.
The three digit code can be found here on the report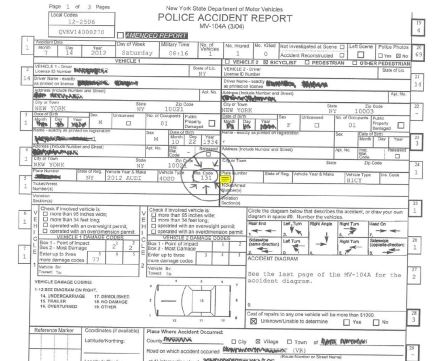 Once you have the code you can look up the carrier by clicking on the link below:
LOOK UP INSURANCE COMPANIES BY NUMBER
A link to the name look-up is here:
LOOK UP INSURANCE COMPANIES BY NAME
If you have any other questions or needs concerning your bike crash in New York please feel free to call us at 1-866-FLANZIG (866-352-6944) or email us at info@NewYorkBikeLawyer.com. All consultations are free.