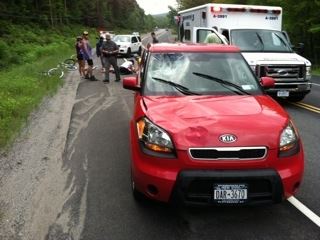 Scene of the Crash of Dorine Peregrim
In 2013, Dorine Peregrim was struck from behind while riding her bike in Upstate New York. Despite the wide shoulder on which she was riding, and the multiple witnesses who were all able to clearly see Dorine before the crash, the driver still passed Dorine too close, hitting her, and violently throwing her from her bike.
Dorine suffered devastating injuries which put her in the ICU for three days. Dorine, who has been an avid cyclist for over 25 years, will now never ride the same again.
State Troopers responded to the crash and conducted an investigation. Dorine's bike was found on the shoulder and the driver's vehicle had extensive damage to the passenger side hood and windshield. Despite this overwhelming evidence, the driver was not ticketed. The responding trooper told Dorine "a collision occurred and it could not be determined who hit who" His explanation? Sorry, but "you were just at the wrong place at the wrong time". Till this day, the Driver has never faced criminal charges for striking Dorine.
Well cyclists of New York, this is all about to change.
As many of you know, I serve on the Board of Directors of the New York Bicycle Coalition. Thanks to the strong leadership of my Board President Jim Reed and our Board Member Emeritus Ivan Vamos, who himself was hit by a motor-vehicle - and support from Transportation Alternatives, the New York Bicycling Coalition (NYBC) has launched an all-out campaign this legislative session in Albany to amend the vague and impossible to enforce 2010 Safe Passing law. We want to the 3ft. passing standard, which is now the law in 26 other states across the country, implemented in New York.
NYBC further applauds the leadership of State Senator Tom O'Mara and Assemblyman Phil Steck for sponsoring this legislation, amendment as A9189/S6649. State Senator O'Mara and Assemblyman Steck have just this week begun to circulate memos in their respective chambers seeking co-sponsors for the 3' amendment.
What's needs to happen?
Only a simple, quick change to the existing amendment. Currently, Vehicle & Traffic Law § 1122-a. entitled Overtaking a bicycle states: "The operator of a vehicle overtaking, from behind, a bicycle proceeding on the same side of a roadway shall pass to the left of such bicycle at a safe distance until safely clear thereof.
The amendment would change the statute to read: "The operator of a vehicle overtaking, from behind, a bicycle proceeding on the same side of a roadway shall pass to the left of such bicycle at a distance of not less than 3 feet until safely clear thereof.
NYBC also recommends the addition of this clause to the existing statute: "The collision of a motor vehicle with a person operating a bicycle is prima facie evidence of a violation of this section".
Why three feet?
3' - the width of a handlebar or the length of an extended arm - gives bicyclists, motorists and law enforcement a clear sense of what is safe and what is dangerous. 3' - particularly if it is enforced - will save lives and reduce crashes that so often result in death and needless tragedy. We are seeking a small, but important, amendment to the current arbitrary standard ("safe distance") to an objective, easily understood, 3' distance (the length of a yardstick or a set of bike handlebars).
Here are the reasons this simple change makes sense:
· The existing law is ambiguous and difficult to enforce.
· The existing law can easily be changed with by deleting a single ambiguous word ("safe") and adding a clear statement of "not less than 3 feet".
· Most importantly, a 3' law will save lives by better protecting NY cyclists and will save millions of health care dollars by reducing the number of NY bicycle/vehicle collisions.
The majority of states have adopted at least 3' as their safe passing standard. 26 states, and D.C., have defined a "safe distance" for a motorist passing a bicyclist as "at least 3 feet." There are other states that give cyclist's even greater protection than the 3' standard. Notably, Pennsylvania has a "no less than 4 feet" standard.
Please Help Us!
We call upon you, our NYBC members and supporters - to get in touch with their Albany representatives, no matter what their political affiliation - to sign on this simple amendment, a tweak to an existing law.
Let's bring NYS law in to the 21st century. Let's save lives and save money. Let's send a message that New York is serious about creating a safe and shared road system throughout our great state!
Please join NYBC's 2016 campaign to amend the Safe Passing Law.