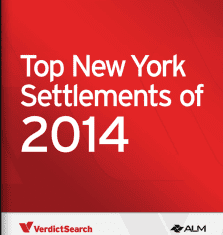 Top Settlements is a special section of the New York Law Journal encompassing settlements, mediations and arbitrations. The lawyers and law firms who are ranked in this special section represent " the best of the best " in 2014. Their zealous advocacy on behalf of their clients is inspiring and deserving of our respect.
Flanzig and Flanzig Listed in Top 25!

Cathy Flanzig obtained a $2,900,000.00 recovery for the victim of a serious Vespa crash in Hewlett, New York. Our client was operating his scooter, when a vehicle made a sudden left turn in front of him. As a result of the crash, our client sustained severe thoracic injuries. The settlement, which netted a total payout of over $3 Million Dollars, was reached just prior to the start of the trial in the New York State Supreme Court, Nassau County. This settlement was listed as #24 of the Top 25 Settlements in New York State for 2014 for crashes involving motorcycles.
The Second Case

Daniel Flanzig obtained a $1.150 Million Dollar settlement for a TSA worker who slipped and fell in an American Airlines Terminal at Laguardia Airport, as a result of a leaking roof. This case involved highly complex medical issues, including claims of R.S.D., also known as Complex Regional Pain Syndrome. The cases was ultimately settled just prior to trial in the Eastern District of the United States Federal Court.
In addition to the above, our firm has obtained several other Million dollar Verdicts and Settlements for victims of car crashes, pedestrians crashes, slip and falls, construction accidents and medial malpractice claims. To learn more about our other results for injured New Yorkers click here.